MADD messenger Productions is about bringing the Bible to life on the theatre stage.  A group of talented actors, singers, musicians, dancers have come together to interpret powerful stories from the Bible. The play-script has been written to cater for all ages and backgrounds and has incorporated music that feeds the heart, mind and soul.   It is an event for the WHOLE FAMILY.
RUTHLESS POSTER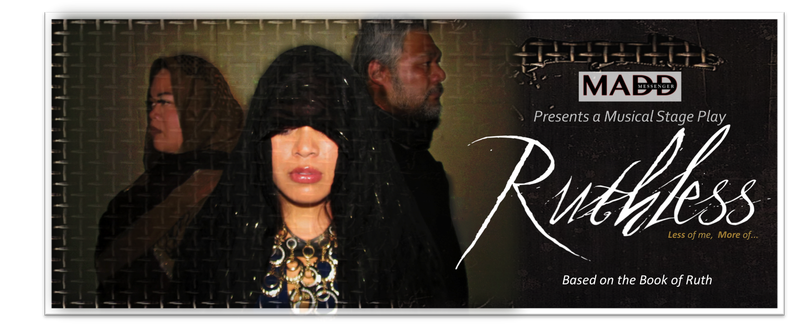 TICKET ON SALE NOW: 
NZ shows: http://www.eventfinda.co.nz 
Aust Shows: http://www.eventfinda.com.au  
Ruthless Facebook updates click here
RUTHLESS Musical stageplay
Ruthless Musical Stage Play is based on the Book of Ruth.  A short book of four chapters, this book is often overlooked, yet it's rich insights echo into the world we live today. There is a type of kindness that words can not describe, a heart that rips through clouds of prejudice, discrimination and judgement.  Ruth is a young widow, that is offered a second chance at life at the prime of her youth.  She faces widowhood with her mother-in-law and sister-in-law and is at a cross roads to re-marry and start over with guaranteed security in the comfort of her homeland.  Her second option is to follow her elderly widowed mother-in-law, who has lost everything, back home, into a foreign land.  Which would you choose?  Ruthless: Less of me, more of......
To see the CAST list click here
Samson Story 2015
The Samson Story: when a man loves a woman, had a total of 12 shows.  This was the first event we delivered on a theatre stage.  The team was amazing and were able to deliver these both in Auckland and Brisbane.
On repeat ❤️Chantelle Siva & Don ❤️

Posted by Roxanne Faaeteete on Sunday, August 9, 2015
The girls doing their thing! ❤️

Posted by Roxanne Faaeteete on Monday, August 10, 2015
Man in the Mirror 2012
In 2012, we delivered our very first public event: Man in the Mirror Concert.  We ran a total of 6 concerts in South Auckland, West Auckland, Hamilton, Te Awamutu, Gold Coast and Melbourne.